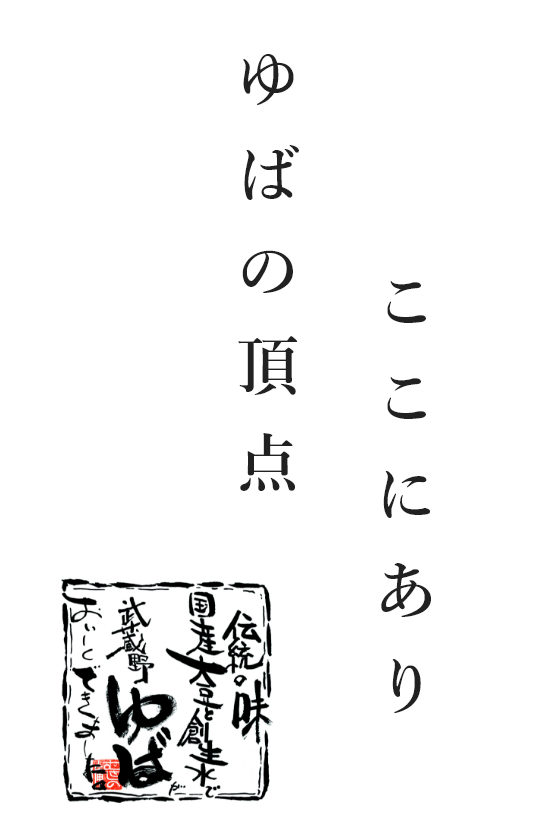 A taste recognized by 800 professionals
Musashinoan Yuba, a masterpiece yuba that is completely hand-crafted carefully by our experts. It is 100% made out from pure domestic soybeans and natural water which gives out a super-rich & light taste of yuba. This is made by one of our proudest brand called「Musashinoan Soybean Factory 」.
In the past, we had some mistake and our yuba didn't turned out well. But now, we finally succeed with our own unique techniques that brings out the flavory of the soybeans. Our yuba is very well known and has surpassed a lot of brands made in Kyoto. Do try it out once in a life time.
Line Up
Suguri Yuba
Ultimate rich yuba surpassed & recognized by many professionals
Using Taguri Yuba to make another delicious series of yuba that is wrapped into a stick shape. This masterpiece yuba contains the right amount of soy milk which enhance the taste even more. The texture of the yuba and the aroma of the beans came out perfectly fine which is literally the best out of the best. It is the perfect choice for any dishes, especially combining sashimi or marinated products with vinegar or even simmered dishes.
Taguri Yuba
Completely handmade fresh yuba, by using natural water from Okutama
Taguri Yuba contains plenty of soy milk which leads to a smooth texture & a strong flavor of soybeans. If there is a delicious yuba, then it must be made out with delicious water. We chose our high purity well water from Okutama. The best way to enjoy the smooth texture and super duper rich taste of Taguri Yuba is combining sashimi or marinated products with vinegar or even simmered dishes.
Hikiage Yuba
Overturn the concept of Musashinoan Yuba
A rich flavory & chewy yuba that consists lesser soy milk compare to others. It has a flat shape and slightly rough texture like seaweed which is also called as Hira Yuba. The best way to taste the flavory and texture of Hikiage Yuba is adding a slight teaspoon of vinegar. It can also be added into salad, soup or shabu-shabu hot pot. Or even, wrapped into a sushi rolls instead of using dry seaweeds. One of the merit of Hikiage Yuba is that it can be kept in the freezer.
Pure & rich 13 Soy Milk
Enjoy making your own tasty & fresh tofu at home
Soy milk are 100 % made from domestic soybeans from Saga Prefecture. It can also turned into a delicious tofu by increasing the consentration of soy milk to 13%. Do enjoy using our soy milk to form a tofu or a warm & tasty soy milk hot pot.
Yose Tofu
Special tofu that is carefully made from soy milk
Yose Tofu is carefully made from soy milk and squeeze into a tofu. Soybeans are strictly selected from Saga Prefecture to produce a rich and natural sweetness of tofu. Try eating it with wasabi without adding any soy sauce. You will be able to enjoy 100% of the original sweetness of tofu and the aroma of soybeans. Please enjoy it while adding some salted plum or matcha salt.
Yuba gift set
A handmade raw yuba gift set which made with 100% pure domestic soybeans and natural water
A great value set that consists 3 types of yuba, including Suguri Yuba, Taguri Yuba, Komaki Yuba( also known as Taguri Yuba) Do enjoy the taste of each texture.